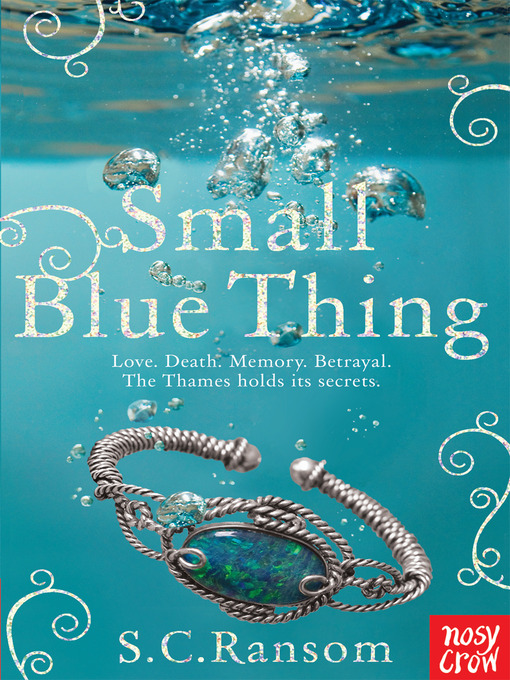 Title: Small Blue Thing
Author: S.C. Ransom
Publisher: Nosy Crow
Publication Date: January 13, 2011
Pages: 320
Source: ARC
When 17 year-old Alex rescues a swan caught on a wire stuck deep in the Thames mud, she finds an extraordinary bracelet. Through its disturbing and compelling powers, she meets Callum, a soul locked in a half-life of sadness and mystery following a terrible accident, and his persuasive and sinister sister, Catherine. As Alex and Callum grow closer despite the enormous obstacles to their love, the dangers mount until Alex must risk everything to save her best friend and Callum must risk everything to save Alex.
In short: I loved this book.
Even though I read all the time, it is rare for me to be able to simply say, I loved it, with absolutely no reservations. The more I like a book, though, the harder it is to write the review!
I finished this book feeling like I did the very first time I read Harry Potter and the Sorcerer's Stone - some combination of "Wow, that was amazing!' and "What's gonna happen in the next book?" and "How am I ever going to wait to find out?". With Small Blue Thing, S.C. Ransom has created an entirely new sort of paranormal species, the Dirges. Not truly dead, not really alive, but stuck somewhere in between, these sort of spirits are born of unfortunate circumstances, and Callum most of all. Alex, a normal teenager, finds a bracelet that links her to Callum, and thus begins a series of plot twists and turns that are truly surprising. Not once could I guess what was going to happen next!
I loved the romance between Alex and Callum; it was sweet and endearing, and the sentiments they shared felt genuine. The highest compliment I can give any writer is that their characters felt like real people to me, and that was the case here. While reading, I always had the feeling that I could just turn around, and Alex or Callum would be there waiting for me, to show me some of the places that were described so vividly in the book.
With Small Blue Thing, S.C. Ransom has created something fresh, unique, compelling, and fun, and I am truly pleased that I had the opportunity to read it. I am eagerly awaiting the next books in the series, Perfectly Reflected (June 2nd, 2011), and Scattering Like Light (January 12, 2012).